BILINGUAL INTERNATIONAL SCHOOL OF PARIS
The Bilingual International School of Paris welcomes children from 3 to 14 years of age. BISP offers a fully bilingual educational program, providing your child the opportunity to be fully immersed into two completely different linguistic worlds. Our unique model entails dividing the day into two distinct parts: students spend half of the day in English language instruction and the other half of the day in French language instruction.
At BISP it is not a matter of your child learning a second language, but rather, your child will receive instruction and learn and grow using two languages, and this is an important distinction. Our high-quality academic program is delivered by our native English and native French speaking teachers. Not only is our aim to deliver a bilingual program, we also strive to offer a strong academic program delivered by quality instructors.
Our Values
and Methods
With its literal application of bilingualism, BISP differentiates itself from other academic programs. Once your child joins our community, they begin using and learning both French and English with the same level of emphasis, allowing for perfect mastery of both languages over the course of their academic journey at BISP.
English
Language Courses
Further to its school program, BISP offers English Language Courses. You can either opt to enrol your child in our Wednesday Club program, providing your child weekly exposure to the English language and Anglo-Saxon culture or choose our English Language Vacation camps during the school vacation periods. Either option is a great way to improve your child's English language skills.
Admissions and
Further Information
You can learn more about enrolling your child in our school or any of our language programs under Enrollment.

Should you have any questions at all, please do not hesitate to contact a member of the BISP team for further information. Send any questions our way and we will respond as quickly as possible.
Our Preschool and Kindergarten Program
Our Preschool and Kindergarten Program affords parents the opportunity to enroll their little ones in a bilingual English and French academic program as early as 3 years of age! For those who are really looking for an early start, depending on availability, we are sometimes able to accept children who are 2.5 years of age during our second term which begins in January. Our classes are small, with about 12 students maximum and our English and French mother tongue teachers deliver a fun and creativity-based program that is 50% English language and 50% French language. This immersive approach will allow your child to learn to speak both languages fluently. Our students not only communicate and learn from their teachers, but they are also in constant contact with children of varied backgrounds. These peer relationships stimulate their curiosity and foster a cultural openness and awareness that is both spontaneous and naturally occurring. Please see the section devoted to our Preschool and Kindergarten Program for further information.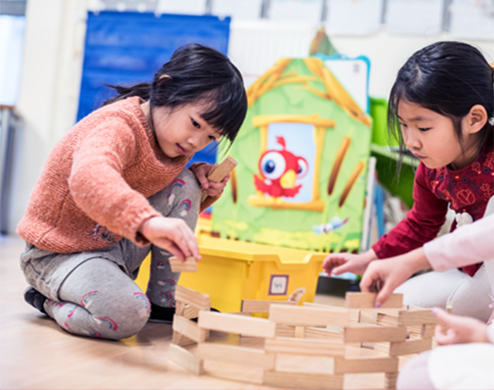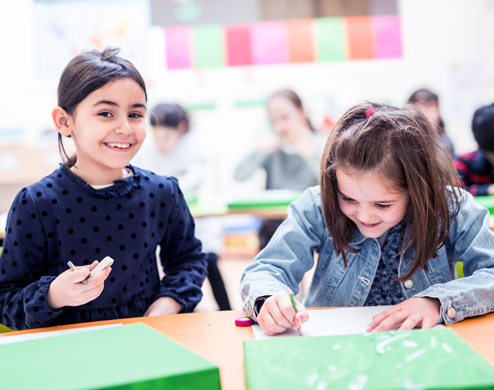 Our Primary Program
In our Primary School neither English or French is considered a secondary or foreign language. The BISP Primary School delivers fully bilingual, high quality instruction within a balanced framework: 50% of instruction time is in French, 50% is in English. All classes are taught by native language instructors. Both languages are omnipresent whether they are being used as the language of instruction within the classroom or being used as a vehicle of oral communication in daily interactions with teachers and friends. Our unique approach to language learning supports our students as they become bilingual while following our Primary School curriculum. However, learning does not stop there as the school's multicultural environment, as represented by over 32 nationalities from around the world, affords all our students the chance to learn from one another and broaden their horizons. Without even leaving the school, our students' friendships and relationships with their peers and teachers allow them to virtually travel the world, learning about different cultures and countries along the way. Students benefit from our varied and rich curriculum set in a multicultural environment and are acquiring experience which will allow them to participate fully in the world outside our classrooms.
1
A shared mission to prepare students for the modern world.
100%
BISP is 100% bilingual.
32
nationalities are represented at BISP.
BISP offers its students a top-quality bilingual education.
12-14
Our small classes are capped at between 12-14 students.
3-14
We currently welcome children between 3-14 years of age.
We offer quality after-school activities to all students enrolled in our school.
Art.
Music and drama.
Physical education.